Frequently Asked Questions
In most cases, this is due to:
A third-party app is interfering with your alarms. Usually, these are apps labeled as cleaners/optimizers/boosters such as CCleaner, Clean Master, Greenify, DU Booster, etc. Please make sure to remove/disable these kinds of apps or add Zelda Alarm App to their exceptions rules, if any.
Some Android devices have battery-saving features that may suspend/kill some apps or disable their background tasks (alarms) to save battery life. Luckily they usually include some sort of whitelist where you can add your apps to prevent this behavior. We have included a notification within the app that warns you about these battery-saving options and takes you to the app whitelist.
Finally, you should definitely visit dontkillmyapp.com which has a very detailed and well-organized guide on how to solve these kinds of battery-saving problems. It's sorted by device manufacturer with screenshots and multiple solutions that you can try.
If you have already tried all the above solutions and are still facing some issues, please send a bug report from the "About" screen in the app. Let us know that you have already tried the F.A.Q solutions.
Here are a couple of things that you can try:
Turn the app's fade-in seconds setting to zero. This will make sure that the music stays at the specified volume at all times.
Make sure the volume slider from the "Settings" screen is maxed out:
There is also the device's volume and affects all alarm apps. There are usually 4 device-sound channels: media, call, ring and alarms. Each has their own volume level, but the app uses the "alarms" audio channel for alarms. Make sure the alarms channel volume slider is maxed out:
Google removed the app since it didn't comply with its guidelines. That is why it has now to be downloaded from this site. All updates of the app will be published here too.
As noted on the Android download page, if you are upgrading from version 2.4.0 or lower, you will need to uninstall it first. All alarm data, tunes and settings will be lost so be sure to note down any relevant information such as alarm times. Once you are on version 3.0.0, all future updates will not cause any data loss.
No, it is only available on Android. There used to be a severely crippled version of the app available on the Apple App Store, but it is no longer available. iOS is quite restrictive in what it allows third party apps to do, so it is not possible to have the app open by itself and play music, thus making very difficult for an app like this to work properly.
Please send us your song requests via the contact form in the "About" screen of the app. We will try to include them in future releases.
No, the Android system does not allow any app to programmatically turn on the phone. This means that your device must be turned on in order for the alarms to go off.
Please make sure that your alarms are indeed disabled. The pentagram beneath each of the alarms should be colored gray (instead of gold).
The easiest fix that works 99% of the time is to just restart your device. This will cause Android's alarm manager to sync again with the app.
In some rare cases, some alarms could still be scheduled in the system even after the alarm has been deleted. If you have already deleted all your alarms and you still are facing this issue, uninstalling and reinstalling the app will solve it (note: you will need to re-download the songs and re-configure the settings).
First, tap on the desired alarm in order to select it. It should expand to show the alarm's options. You will find a musical icon note with the text
"Song of Time"
next to it. Tap on that and the tune selection menu will open. Here is an image showing that: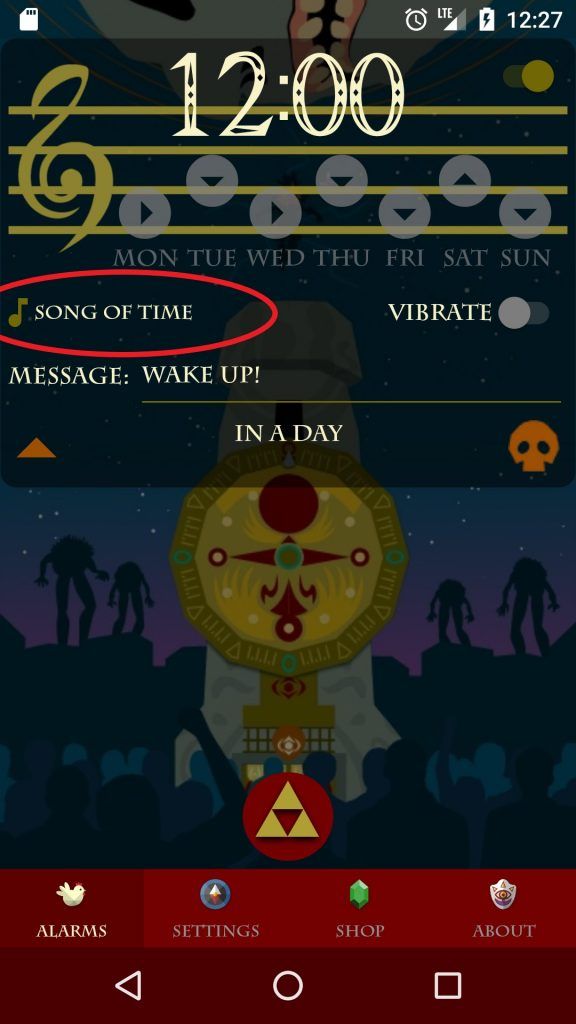 First, tap on the desired alarm in order to select it. It should expand to show the alarm's options. You will find an
orange skull icon
in the bottom-right corner. Tap it and a popup message will ask you if you want to delete the alarm. Press the confirmation button and the alarm will be deleted. Here is an image showing that: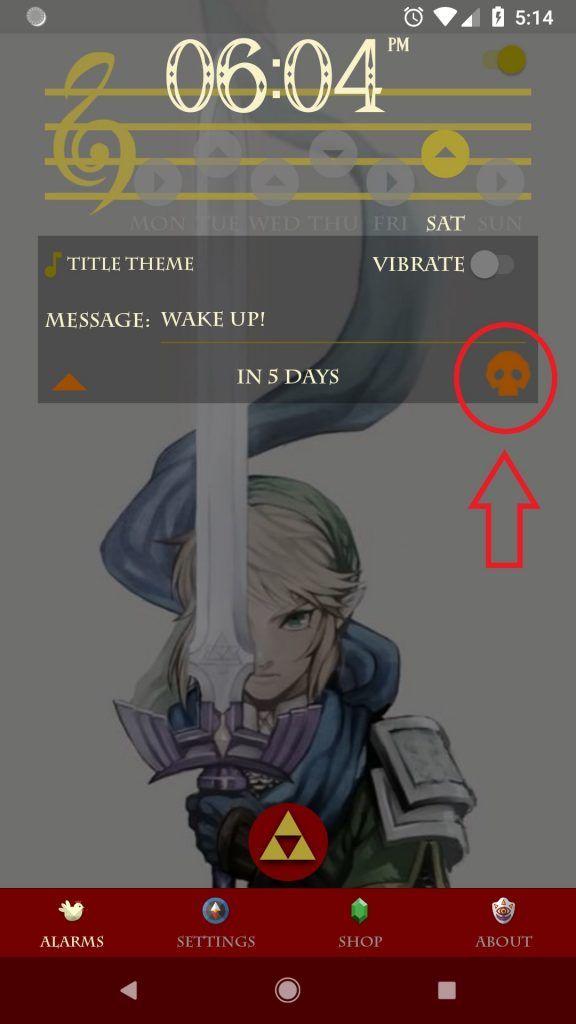 All purchased items are linked to the Google account used to purchase them. So as long as you were logged in to the Google Play Store with that same Google account when you downloaded the app again, then the purchases should be available automatically.
From version 3.0.0 and onwards, all new purchases are linked to the Google account used to log in to the app's shop screen. So, if you wish to restore items bought from version 3.0.0+, you will need to log in with the same Google account that was logged in when the purchase was made. (Purchases from version 2.4.0 and before are still linked to the account used in the Play Store) Note: you might need to wait a couple of hours and restart your device in order for these changes to take effect.
You cannot get rupees per se. They are used as a funny way to represent the Shop item's cost instead of using a real currency. One rupee represents 1 USD cent, so for example, a 99 rupees item will cost 99 cents (USD).
The ocarina challenge is a puzzle/game that you can enable to be presented to you when you try to dismiss an alarm. After you tap the "dismiss" button, a screen with a
random ocarina song's name
will appear. You will have some limited time (60 seconds by default) to enter the correct ocarina notes for that song in order to solve the challenge. If you fail to do so, the alarm will go off again.
You can enable/disable the ocarina challenge and change its difficulty from the "Settings" screen. Here is a screenshot showing that: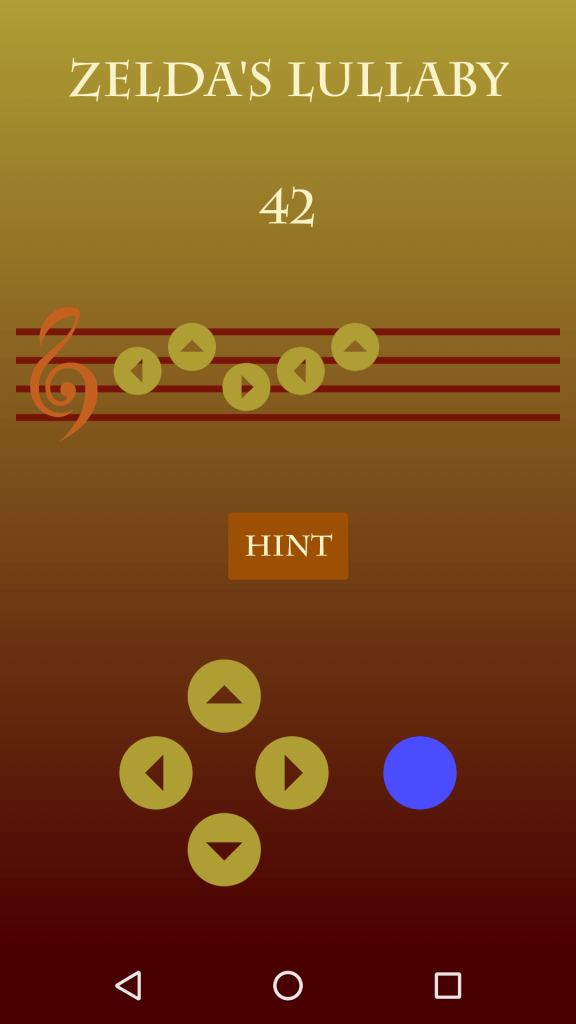 Shhh don't tell anyone 🤐
A ▼ ▼ ▶ ▼ A A ▼
▲ ◀ ▲ ▶ ▲ ◀ ▲ ▶
A ▼ ▶ ▲ A ▼ ▶ ▲
◀ ◀ ◀ ▶ ▼ ◀ ◀